Bogra District (rajshahi division) area 2898.25 sq km, located in between 24°32' and 25°07' north latitudes and in between 88°58' and 89°45' east longitudes. It is bounded by joypurhat and gaibandha district on the north, chalan beel,' natore and sirajganj district on the south, Jamuna river and jamalpur district on the east, part of Chalan Beel and naogaon and Natore district on the west.
Population Total 3013056; male 1547341, female 1465715; Muslim 2819432, Hindu 191528, Buddhist 666, Christian 297 and others 1133.
Water bodies Main rivers: karatoya, jamuna, nagar, Bangali, ichamati. Notable beels are Betgari, Koigari, Subeel, Nuruler Beel, Poradaha Beel, Keshpathar, Kalidaha, Garai, Erulia, Dasukdaha, Sara, Gobarchapa, Ramchandrapur, Kokira, Bahuar Beel and Kachiar Beel.
Administration Bogra town founded in 1850. Bogra municipality was established in 1884. Bogra district was established in 1821 consisting of 9 thanas, of which four from rajshahi district (adamdighi, Bogra, sherpur, Nawkhila), three from dinajpur district (Lalbazar, badalgachhi, khetlal), and two from Rangpur district (gobindaganj, dewanganj). Subsequently 9 thanas were excluded from the primary infrasture of the district; and greater Bogra district was formed including 7 new thanas. In 1983 Bogra district was divided into two districts, Bogra and Joypurhat.
District
Area (sq km)
Upazila
Municipality
Union
Mouza
Village
Population
Density (per sq km)
Literacy rate (%)
Urban
Rural
2898.25
12
5
108
1782
2695
389069
2623987
1040
41.9
Others Information of District
Name of upazila
Area (sq km)
Municipality
Union
Mouza
Village
Population
Density (per sq km)
Literacy rate (%)
adamdighi
168.84
1
6
112
178
187012
1108
50.4
kahaloo
238.79
-
9
167
270
195565
819
47.9
gabtali
239.60
-
11
106
214
290190
1211
39.7
dhupchanchia
162.45
1
6
115
212
160894
990
45.4
dhunat
247.73
-
10
91
210
270810
1093
31.1
nandigram
265.47
-
5
235
245
168155
633
42.2
bogra sadar
197.75
1
11
139
208
694077
2536
55.5
shahjahanpur
215.64
-
10
131
131
234365
1087
48.59
shibganj
315.92
-
12
245
429
352415
1118
36.0
sherpur
296.27
1
9
224
319
286308
966
36.3
sariakandi
408.45
1
12
120
146
240083
588
32.3
sonatala
156.73
-
7
103
131
167547
1069
37.9
Source Bangladesh Population Census 2001,Bangladesh Bureau of Statistics.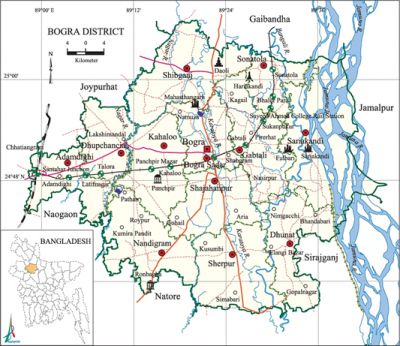 History of the War of Liberation On 29 March 1971 the students and the general people of Bogra under Capt. Gias killed 23 Pak soldiers and destroyed 3 military vehicles. On 4 April, the Pak army killed 16 members of the Bamacharan Mozumder family at Maidanhatta of Shibganj upazila. On 11 April, the Pak army killed Manmatha Chandra Kundu including 8 other members of his family. In the middle of April 1971 a number of freedom fighters looted about 4 crore taka from the State Bank of Pakistan at Jaleshwaritala of Bogra Sadar and deposited the fund to the exchequer of the mujibnagar government to meet the cost of the war of liberation. One person was killed when the Pak army attacked Dhunat police station. Three Bangalis were killed when the Pak air force bomed on Bogra sadar on 23 April 1971 while the Pak army entered Bogra Town with artillery. During this time 20 Pak soldiers and 150 Bangalis were killed in resistance movement and guerrilla attacks. On 25 April the Pak army captured 32 persons from Baghra Colony of Sherpur upazila and shot 25 of them dead at Itkhola mass killing site. On 26 April the Pak army killed 300 persons at a place adjacent to the Ghoga Bridge, 33 persons at Elangi Bandar of Dhunat upazila. They also caused serious damages to the properties of the bandar. On the same day the Pak army killed 26 persons at villages Darimukanda. Five police sepoys' lost their life when the Pak army attacked Dhunat thana on 27 April. On 28 April the Pak army conducted mass killing at village Baman of Nandigram upazila and killed 157 persons. They also shot 3 persons dead at Sonatala rail station bazar. In the first week of May the Pak army killed more than 100 persons at village Kallani of Sherpur upazila and on 4 May they also killed 3 persons at Kalerpara union of Dhunat upazila. An encounter between the freedom fighters and the Pak army was held on 16 August at village Ramchandrapur of Sariakandi in which 5 Pak soldiers, one police sub-inspector and a number of rajakars were killed. On 6 May the Pak army shot 3 persons dead at a bazar near Sonatala Bandar. In the third week of August the freedom fighters destroyed a bridge at Sariakandi. At a distance from the bridge 6 Pak soldiers including one officer were killed by mine explosion. The freedom fighters killed 6 police personnel at Fulbarighat on their way to Sariakandi from Bogra on 4 September. On 7 September the Pak army killed 17 persons of Dhunat upazila and buried them in a mass grave near the Dhunat police station. A number of Pak soldiers were killed in an encounter between the freedom fighters and the Pak army at village Tajurpara on 19 September. The Pak army killed a number of people at villages Narchi and Ganakpara on 20 September. They also killed 14 persons and buried them in a mass grave at Bibirpukur of Shajahanpur upazila on 11 November. Two freedom fighters were killed in an encounter with the Pak army in Sariakandi upazila on 28 November. The freedom fighters attacked Sariakandi police station in which 18 Pak soldiers and rajakars were killed. In this encounter 3 freedom fighters lost their life. In an encounter between the freedom fighters and the Pak army on 6 December, 3 Pak soldiers and 2 rajakars were killed in Dhunat. One freedom fighter was killed in a direct encounter with the Pak army at village Panchpir Saralpur of Shibganj upazila.
Marks of the War of Liberation Mass grave 5 (Padmapukur near Talore Dhupchanchia Road, Bibir Pukur of Shajahanpur, Baman Gram of Nandigram upazila, Hariakandi of Sonatala, near Dhunat Police Station); mass killing site 1 (at Baghra Colony of Sherpur upazila), memorial monument 3 (Kahaloo High School premises, Adamdighi Shashanghat (cremation centre), Dhunat martyr memorial).
Literacy rate and educational institutions Average literacy 42.9%; male 48% female 37.5%. Noted educational institutions: Sheed Ziaur Rahman Medical College (1992), Government Azizul Huq College (1939), Bogra Zila School (1853), Bogra Govt. Girls' High School (1869), Kahaloo High School (1873), Sonatola Pilot High School (1908), Adamdighi High School (1918), Gosaibari AA High School (1918), Talora Altaf Ali High School (1918), Dupchachia Pilot Girls' High School (1923), Shibganj Pilot High School (1931), Dupchachia Pilot High School (1944), Nawkhila Government Primary School (1901), Devdanga Government Primary School (1903), Chagaldhara Government Primary School (1904), Sariakandi Government Model Primary School (1905), Hatfulbari Government Primary School (1905), Kajla Government Primary School (1905), Sondabari Darul Hadis Rahmania Madrasa (1700), Government Mostafabia Alia Madrasa (1925).
Main sources of income Agriculture 57.32%, non-agircultural labourer 2.39%, industry 1.72%, commerce 13.63%, transport and communication 4.62%, service 7.66%, construction 4.59%, religious service 0.17%, rent and remittance 0.63% and others 7.24%.
Newspapers and periodicals Dailies: Karatoya, Satmatha, Durjoy' Bangla, Aaj O Aagamikal, Chandnibazar, Uttarkon, Bogra, Uttaranchal, Muktabarta, Uttarbarta; weeklies: Aajker Sherpur, Pancha Nadir Teere, Natun, Durjoy, Sahittya, Tarunnys; Defunct: Sonatola Batra, Brittya.
Folk Culture Jarigan, Marfati, Bhatiali, Kavigan, Kirtan, Jatra pala, Meyeli geet, proverbs, puzzles are notable.
Tourist spots Kherua Mosque (Sherpur), ramnants of the historic mahasthanGarh, Bara Mosque, Mazar of Shah Sultan Balkhi, Mazar of Panchpir, Gokul Medh, palace of Parshuram, Basu Bihara, Palli Unnayan Academy, Saudia Parkcity, Bhimer Jangle, museum of Nawab Bari Palace, Karu Palli, Wonderland Shishupark (children park), Shanewaz Shishubagan, Woodburn Park, Dreshtinandan Park, Bijayangan (war of liberation museum). [Md Nazmul Haq]
See also The upazilas under this district.
References Bangladesh Population Census 2001, Bangladesh Bureau of Statistics; Cultural survey report of zila and upazilas of Bogra district 2007.